Rare Da Vinci drawings on display at Hull gallery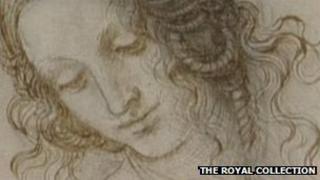 A collection of 10 drawings by Leonardo da Vinci have gone on display at Ferens Art gallery in Hull.
The works include designs for a chariot, anatomical sketches and a study of the head of Leda, the mythological mother of Helen of Troy.
It is expected to attract more than David Hockney's exhibition at the gallery, which pulled in 63,000 people.
The drawings have formed part of a national tour to celebrate the Queens's Diamond Jubilee.
They form part of the Royal Collection at Windsor Castle.
Jonathan Marsden, director of the Royal Collection, said: "The exhibition will be a unique opportunity to see some of the most fascinating and accomplished drawings ever produced and to engage first-hand with one of the greatest minds of all time.
"It is our aim that they should be seen and enjoyed by the widest possible range of people while they are in Hull."
The exhibition runs from 10 November to 20 January.