Disabled Grimsby man 'trapped' upstairs by broken stairlift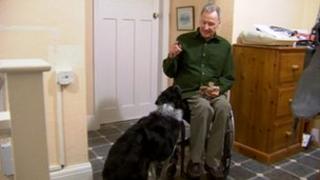 A disabled man from Grimsby has said he has been trapped upstairs for six weeks following the breakdown of his stairlift.
Laurie Ardito, 61, claims the lift has broken 30 times since it was fitted in his house two years ago.
Mr Ardito, who uses a wheelchair after being injured in a riding accident, said he has been forced to set up a temporary kitchen in a bedroom.
North East Lincolnshire Council said it was working to resolve the issue.
'Doing nothing'
"If I can't get down the stairs my life actually stops," said Mr Ardito.
"It just leaves me stuck up here doing nothing. The only company I've got is my computer.
"I would have walked my dog on a daily basis. I would have seen neighbours. I would have talked to people down the street, can't do it anymore."
The stairlift was installed by a private company on behalf of North East Lincolnshire Council.
In a statement the council said it had "attempted to rectify the problems on many occasions".
The council also said it had offered assistance to allow Mr Ardito to occupy the ground floor of his property.
Mr Ardito said he had rejected this option because he claimed the washing facilities would be unsuitable.
He has also turned down the offer of a council-paid place in a care home.