Goole docks waste: Enforcement notice to remove rubbish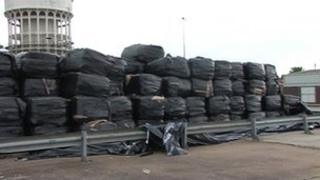 A company has been ordered to remove tonnes of waste dumped at an East Yorkshire port by 31 December.
Bales of refuse were left at Goole docks by Leeds Paper Recycling (LPR) earlier this year.
In a letter to a councillor, the Environment Agency (EA) said it had served an enforcement notice to NW Trading, which manages the land.
NW Trading confirmed it had received the notice but said it was "innocent" as the waste was owned by LPR.
Councillor Malcolm Boatman, who received the letter from the Environment Agency, said he was "pleased that some action" had been taken.
In the letter, the EA stated it understood waste had been removed from the front of the docks area, but it said that 945 of the 3,000 bales were still to be cleared from the rear of the docks.
The agency added there was "a concentrated effort to resolve this situation as quickly as possible".
Mr Boatman said: "This is the second enforcement notice we've had. The first one was earlier this year and we're still stood here today with quite a substantial amount of waste still on the docks.
"We had a poor summer in respect of the weather, so that was fortunate in that we didn't suffer as badly as we could have done. But the issue is the waste shouldn't be here - it should have gone ages ago."