Nikita Ainley detained over Mary Rutherford death crash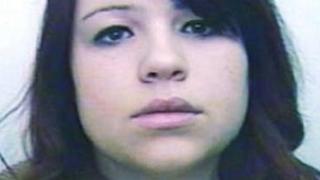 A young driver who caused a fatal crash by texting at the wheel has been detained in a case a judge said should act as a "terrible warning" to others.
Nikita Ainley, 20, was sent to a young offenders' institution for three-and-a-half years after she admitted causing the death of Mary Rutherford, 68.
Judge Stephen Ashurst told York Crown Court: "No message is so urgent that it requires someone to lose their life."
The crash happened as Ainley drove to work in Bilton, near Hull, in May 2011.
The Asda worker, from Roos, East Yorkshire, was 18 at the time.
Ainley, who has no previous convictions and was described as being a "normal young woman", was banned from driving for five years and ordered to take an extended driving test if she wants to drive again.
Mrs Rutherford, from Withernsea, East Yorkshire, had been recovering from cancer and was in the back seat of the Fiat, returning from a supermarket trip with friends.
'Scene of devastation'
Outside court, one of her two daughters, Dawn Timmings, said she had a simple message for drivers.
"Just put the phone somewhere where you don't need to hear it or see it," she said.
"It's not complicated. My mum did not need to die that day. My mum was a constant in my life. I'll never, ever be able to see her again."
The judge said the result of the crash, in a country lane between Hull and Withernsea, was a "scene of devastation".
Ainley initially denied she had been texting on her BlackBerry at the time of the crash. She said she had pulled over in order to exchange messages with a friend about a night out.
But a painstaking inquiry by Humberside Police established that the last of two messages she sent was transmitted only 48 seconds before a witness to the crash dialled 999.
Judge Ashurst told Ainley: "It was your thoughtless use of a BlackBerry phone that has brought about a completely unnecessary death.
"This case ought really to stand as a terrible warning as to the dangers of that kind of obviously unlawful activity.
"This case, unhappily, is illustrative of how things can go tragically wrong."