Seven Seas to close Hull factory with up to 250 job losses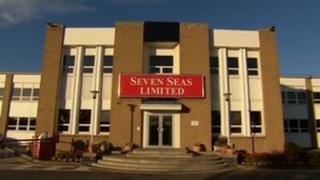 Healthcare company Seven Seas has confirmed it is closing its factory in Hull with the loss of up to 250 jobs.
The company said there would be a phased shut down of the Hedon Road factory over two to three years.
Managing director John Redman said consultation had not changed the company's view that the move offered the "best chance of future success".
Karl Turner, East Hull Labour MP, said: "This is deeply disappointing news from Seven Seas but no surprise."
In October the company said production would be outsourced and operations transferred to London.
Mr Redman said the company was making the announcement now to provide "clarity on the future of the business before the Christmas holidays".
Employment blows landed
He said the consultation process with staff had been thorough.
Mr Turner added: "It is very concerning that this announcement comes before the end of the 90-day consultation process.
"I think this shows that Seven Seas had no intention of staying in Hull".
Mr Turner said he thought the decision to close the factory could be subject to a legal challenge by unions.
More than 250 people are employed at the site but Seven Seas is yet to disclose the exact number of job losses.
A series of other employment blows have hit the Hull area recently.
The news of the Seven Seas closure was announced on the day hundreds of jobs at the Hull headquarters of electrical retailer Comet were lost.
Ongoing cuts to public sector jobs include Hull City Council losing about 171 posts, equivalent to 240 members of staff.
Kimberley Clark is set to close its mill in Barton Upon Humber with a loss of 378 jobs.
Changing shift patterns at the McCain frozen food factory in Hull mean up to 50 jobs are to be axed.
There is also continued uncertainty over jobs at BAE systems in Brough.