Nunsthorpe Together club to close over rent dispute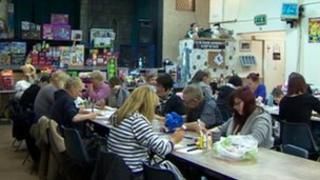 A community club set up to curb anti-social behaviour in Grimsby is to close because of a rent dispute with the church over the use of its hall.
St Martin's Church claims Nunsthorpe Together owes £140,000 in unpaid rent since 2004, but the club claims the church offered its hall for free.
Supporters said the closure of the club would damage the community.
The church said it had not offered the hall for free but it was committed to "serving the community".
The club offers activities including dance classes, bingo and go-karting from its base in Sutcliffe Avenue.
'Vital role'
Conrad Adams, 35, lives on the Nunsthorpe estate and has been attending the centre for five years.
"I had a lot of problems with drugs at the time of when I started going. I was taking heroin and getting into trouble with the police," he said.
"I've been clean for two years now and the club helped me. They gave me good advice and support."
Debbie Hill from Nunsthorpe Together said the club had a vital role to play on the Nunsthorpe housing estate, especially for young people.
"We have children coming here that are hard to engage with and over the years they've got to know us, they trust us," said Ms Hill.
"Over the years, [the club] has reduced anti-social behaviour and for me, the kids that have left here who are now adults have turned into fantastic parents."
A spokesperson for St Martin's Church said as it had not been able to come to an agreement with Nunsthorpe Together, the club could not continue to use its hall.