Goole docks waste 'should be removed by March'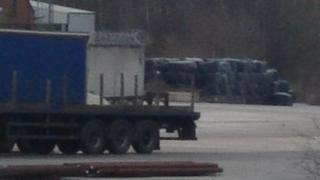 The Environment Agency is considering legal action to force the removal of tonnes of waste from Goole docks.
Residents complained of a fly infestation after 4,050 bales of waste were left at the site by Leeds Paper Recycling (LPR) last year.
NW Trading, which leases the land, was issued with an enforcement notice ordering the waste to be removed by 31 December but 600 bales still remain.
The Environment Agency said "we are now at a stage of instructing barristers".
It said it was "confident" the waste would be removed by the end of March.
NW Trading said it had lodged an appeal against the enforcement notice and intended to remove the waste by next month.
'Minimise nuisance'
An Environment Agency spokesman said: "There are around 600 bales of waste left at Goole Docks and we are in discussion with NW Trading about them.
"We hope these will be moved as soon as possible but, meanwhile, they are located away from neighbouring properties to minimise nuisance potential."
In a letter to Goole town councillor Brent Huntington, the agency's Yorkshire area manager Mark Scott said: "I understand and share your frustration that this matter is not yet fully resolved.
"I can confirm that a case file regarding non-compliance with enforcement notices has been prepared and has been passed to our legal department.
"We continue to push for resolution of the waste stored at Goole docks and progress is being made.
"We are now pursuing a course of action that I am confident will result in the removal of all the waste bales from Goole docks by the end of March 2013 at the latest."
Councillor Huntington said he was happy that action would be finally taken after "pursuing this relentlessly with the Environment Agency" over the last year.