East Yorkshire town's cobbles removal delayed for talks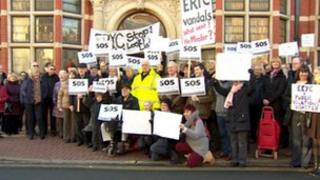 Plans to remove cobblestones from the market place of an East Yorkshire town have been delayed to allow for talks to be held with protesters.
East Riding of Yorkshire Council wanted to remove the cobbles, as part of a £2.5m revamp of Beverley's market area.
The work was due to start next week but has now been postponed after heritage groups in the town held three protest marches against the changes.
One protestor has described the scheme as "vandalism".
Pedestrian friendly
The authority intends to replace the market surface with block paving and renew adjoining York stone pavements.
It said the changes would make the area more pedestrian-friendly.
One of the protesters, Professor Barbara English from the Beverley Civic Society, said: "We feel that it is actually vandalism."
"It's the antiquity of the thing, if you make it like every other town, why come to Beverley?"
Speaking at a meeting the council's Conservative leader Stephen Parnaby said the work would still go ahead but they would "re-phase the scheme", with the removal of the cobbles left until the end of the project, "to allow further discussions with stakeholders to take place".
Mr Parnaby said he was "really sad" that the campaign against the scheme "had escalated to this level."
The council said it was consulting with its contractors to draw up a new timetable for the work.