Deputy Humberside Paul Robinson PCC to give up councillor role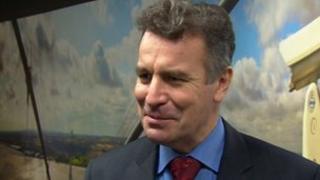 The deputy police and crime commissioner (PCC) for Humberside has announced he will give up his role as an East Riding councillor.
Paul Robinson sits as a Conservative member for the Howdenshire ward.
Last month, members of a police scrutiny panel voted against appointing Mr Robinson over concerns about his ability to do both jobs.
On Wednesday, a motion was put to the full council calling for him to stand down.
Mr Robinson accused other councillors of trying to politicise the role.
'Totally incompatible'
Mr Robinson said: "For me it is all about the barriers that were potentially going to be put up that would prevent me from representing the residents of Howdenshire.
"I think it's for the good of Howdenshire residents that I make a clean break of it and move on."
Earlier this week Mr Robinson said he was "confident" of being able to fulfil both roles but would give up his council allowance of almost £11,000.
Labour councillor Pat O'Neill said: "He has done the right thing and that's all we wanted him to do.
"The two roles are incompatible because conflicts of interest would arise all the time.
"He immediately had to come off the licensing committee and anything involved with law and police work that comes up to a councillor would be totally incompatible."
At a meeting in December, the Humberside Police and Crime Panel voted against Mr Robinson's appointment to the £45,000-a-year deputy PCC post by a majority of eight to one.
The panel's vote was overruled by PCC Matthew Grove.
Mr Robinson worked on Mr Grove's election campaign.