East Yorkshire motorists warned over snow and ice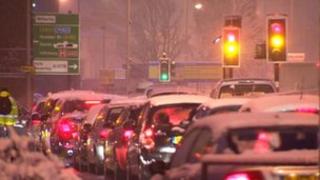 Motorists in East Yorkshire and North Lincolnshire are being warned of icy driving conditions and further snow.
Heavy snow on Monday caused traffic disruption and the withdrawal of buses from some routes because of poor driving conditions.
A Met Office yellow warning of further snow and ice remains in force for the region.
Major routes have been gritted but conditions are poor on untreated minor roads, councils have said.
John Skidmore, from the East Riding of Yorkshire Council, said: "We have road surface temperatures around -4C to -5C across the county.
"We've been battling conditions overnight and through the morning. Clearly on the minor routes we have ice and compacted snow and very difficult underfoot conditions."