Goole teacher Steve Chessman joins medieval chain gang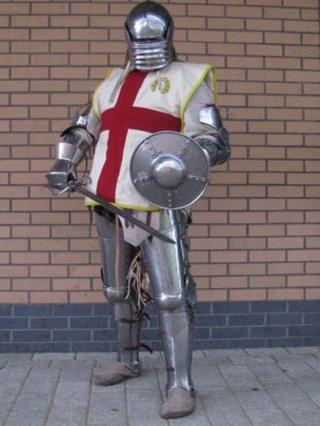 A maths teacher is to trade cosines for combat when he takes part in a medieval battle tournament in the spring.
Steve Chessman, who teaches at Goole High School will be part of the Historical Medieval Battles Team GB who will compete in France in May.
The tournament, featuring combatants from 23 countries, is not a "re-enactment" event.
Mr Chessman said his chainmail-clad battles were won by either point-scoring or as the "last man standing".
Before the main tournament, the 2nd dan black belt in the Japanese martial art of Kenjutsu will try his hand at the German International Qualifiers on 1 and 2 February and the French National Qualifiers in March - events he said are classed as "friendly".
He said: "I need to keep fit because the physical requirement for a place on Team GB is about the same as for joining the army".
The maths expert said he regularly cycles a 24-mile round trip to school.
He has been involved in Medieval and Viking re-enactment for 30 years and trains with the Sir Thomas Stanley group, a 15th Century re-enactment troupe in Rotherham.
But the battles as part of Team GB are for real.
The Historical Medieval Battles is a full-contact fighting event with the use of a variety of weapons characteristic of the Middle Ages.
Combatants use blunt weapons and are dressed in full armour.
Blows are aimed at any part of the body with some limitations set by the rules.
The one-on-one contests are scored on points, while multiple-contestant events are won by the "last man standing" rule.
It takes Mr Chessman half-an-hour to kit up in more than five stones of armour - worth nearly £2,000 - before a battle, much of which he has made himself.
He added: "As well as being heavy, it gets extremely hot in there and re-hydration is the biggest issue.
"It is a very physically demanding activity, which is why I was on a strict diet and fitness regime over Christmas and New Year," he says.
"After the German event, Team GB, which was only formed last summer, should have a better idea of what we can do.
"We will be up against some very experienced fighters, particularly from Poland and Russia and we hope to at least give a good account of ourselves."