Free school build starts on Hull FC's former ground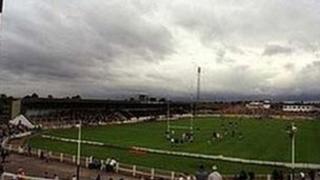 Work has started on the site of a former rugby stadium to build Hull's first free school.
The £8m Boulevard Academy is expected to be 85% complete when it takes its first 120 pupils in September.
The 600-student secondary school is being built on the Boulevard site where Hull FC used to play before the club moved to the KC Stadium in 2002.
The free school project was opposed by a teaching union, which said education should remain in public hands.
Educational consultant Carol White, who is one of the people behind the scheme, said the school would be fully finished in December.
Ms White said the school would "grow year by year" to 600 pupils when fully filled in five years time.
'Boulevard memorabilia'
The school will also include a memorial garden to Hull FC fans whose ashes have been scattered on the Boulevard pitch.
Ms White added: "We're also talking to Hull FC supporters to have some form of a display cabinet showing memorabilia of Hull FC's time at the Boulevard."
The free school, which was approved by the government, received a £7.9m grant from the Department for Education to build and equip it.
Mike Whale, from the National Union of Teachers, said: "It's transferring education, which we think should be a public service, into the hands of private individuals."
Free schools were established by the government in 2010. They are independent of local authorities and directly funded by central government.
They have increased control over their curriculum, teachers' pay and conditions, and the length of school terms and days.