Burton Fleming floods: Further risk from melting snow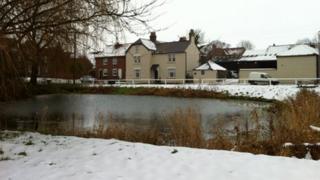 People living in an East Yorkshire village who were flooded during Christmas are at risk of further flooding from melting snow.
More than a dozen homes in Burton Fleming were affected when the Gypsey Race stream burst its banks last month.
Consultant flooding engineer Hamish Hall said there was "a reasonable threat" of flooding after snow thaws.
The county council said it had a pump in operation and sandbags in place as it continued to monitor the situation.
The Environment Agency said snow would take a while to melt so any effects could appear much later.
Resident John Mills said: "It's been a disaster. Water was flowing down the roads like a river... driving was a nightmare.
"There's a lot to come yet. We could end up back to square one."
The council said most of the flood water had subsided and was "more or less back in the dyke".
'Very angry'
It said Thwing Road had re-opened on Wednesday. However, Penny Lane was closed due to damage caused by standing water and freezing conditions creating potholes.
Meanwhile, some people living in Kilham claim the flooding last month was made worse because the council did not clear the gullies to allow the flood water to drain away.
One resident, who did not give their name, said: "I've been here 15 years and we've had little springs but not as severe as this.
"[We're] very angry with the council for not sorting the drains out quickly enough. They should've been and cleaned the drains of all the mud and leaves and a lot of the flooding on the roads wouldn't have been a problem."
John Skidmore, head of street scene services at the East Riding of Yorkshire Council, said: "The gullies were cleaned on the 11 and 12 June last year as part of our annual cleaning programme.
"The gullies aren't blocked. The team were on site yesterday to double check that.
"It's just an ongoing battle that the water continues to flow into Kilham, as well as the Gypsey Race from Wold Newton down to Burton Fleming. We're doing everything we can, but it's nature. "