East Yorkshire city brings back ancient roles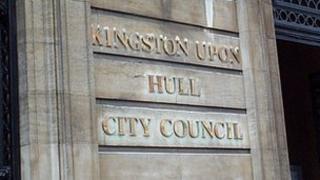 Hull has received permission from the Queen to reinstate the ancient posts of High Sheriff and High Steward.
The two ceremonial roles were abolished following local government reorganisation in 1974.
The request was made last year in the city's "loyal address", a letter sent to Her Majesty to mark her Diamond Jubilee.
Hull City Council said the holders of the posts would act as ambassadors for the city and attend civic events.
The Office of High Steward was originally created in 1583, the post holder must be a Lord and a Privy Councillor.
The city's first high steward was Sir Francis Walsingham, principal secretary Queen Elizabeth I.
Other high stewards have included the Georgian-era prime minister Lord Rockingham, Hull businessman and MP Thomas Robinson Ferens and former Labour home secretary Herbert Morrison.
The role of high sheriff dates from 1440. Traditionally the post was often held by prominent local businessmen.
'Significant roles'
The Labour leader of Hull City Council, Councillor Stephen Brady, said he hoped the posts would raise the profile of the city and encourage investment.
"These titles encapsulate the tradition and civic pride of our city and I am delighted that they will be revived," he said.
"We can be all the more proud to see them revived in Her Majesty's Diamond Jubilee year.
"They will become very significant roles as we seek to grow our economy, rebuild against our city plan, and to re-establish the international reputation of this great city."
The council said it hoped the positions would be filled in the next few months.
The high steward will serve for 10 years and the sheriff for three.