Hundreds attend Epworth boy Alexander Strong's funeral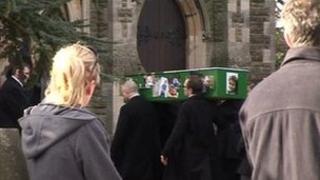 Hundreds of people have gathered for the funeral of a North Lincolnshire boy who died from a rare form of cancer.
Seven-year-old Alexander Strong from Epworth died last month from neuroblastoma, which affects fewer than 100 children in the UK every year.
His school, Epworth Primary Academy, and a number of businesses in the town were closed.
The funeral service, which featured the Star Wars theme tune, was held at Wesley Memorial Methodist Church.
Rev David Leese, who conducted the service, said the church was packed and about 600 people attended.
He said: "It was an emotional service and one that celebrated his life and part in the community.
"This was the church in which he was baptised in 2005 when he was born and the one that he said goodbye in."
Three people dressed as Star Wars Stormtrooper characters led the funeral procession and 200 balloons in Alex's favourite colours, orange and green, were released when the cortege arrived, Rev Leese said.
'Dignity and courage'
Alexander died at the Bluebell Wood Children's Hospice, near Sheffield.
His family said he was courageous and dignified to the end and they were very proud of how he fought his illness for three years.
His mother Maxine Strong said his last words to her were "I love you mummy."
She said: "He was just adorable.
"He was just an amazing young man that never complained.
"I'm just very, very proud that he dealt with this disease with such dignity and courage."
His family set up a website charting Alexander's battle against the illness and to raise funds for research into neuroblastoma.
Last year he won the first North Lincolnshire Child of the Year award.
His nine-year-old sister Olivia said: "He was very brave and he was very kind.
"He was a really good brother."