Sister of dead soldier Gregg Stone killed in car crash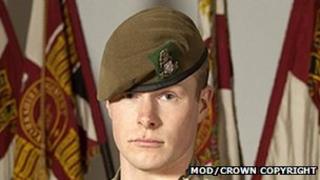 The sister of a soldier from East Yorkshire who was killed in Afghanistan last year has died in a car crash, Humberside Police confirmed.
The collision happened at 09:15 GMT on Monday on the A165 at Fraisthorpe in East Yorkshire, police said.
Jennie Stone, 28, from Bridlington, died after her car collided with another car before hitting a tree.
Ms Stone's brother, Gregg, 20, of 3rd Battalion Yorkshire Regiment, was shot and killed in Helmand province in June.
Pronounced dead
Police believe Ms Stone's car collided with another car travelling in the same direction while they were both attempting to overtake a lorry.
Ms Stone's car then hit a tree by the side of the road.
Emergency crews attended and Ms Stone was pronounced dead at the scene, police said.
The driver of the other car was not injured.
The road was closed for about six hours while police carried out investigations at the scene.
Pte Stone was hit during an operation to rescue a policeman who had been kidnapped by insurgents.
He was less than a month into his tour of duty in Afghanistan.