East Yorkshire town's residents 'should consider flood defences'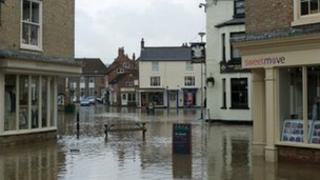 A council report into flooding in an East Yorkshire town has suggested that property owners should consider buying their own flood defence equipment.
East Riding of Yorkshire Council carried out the inquiry after Pocklington was hit by flash flooding in April.
The report concluded that nobody was to blame after heavy rainfall overwhelmed the drainage system.
Other measures suggested include altering the town's river bank.
Another suggestion in the report is to redesign Pocklington's drainage system.
In the report the council said that heavy rainfall "caused the water level in the Pocklington Beck to rise rapidly".
The report continues: "At this time the drainage system, including highway drains and sewers within the town were already charged with the previous rainfall.
"This increased flow in the Beck resulted in surface water overflow in from the main culvert entrance at the rear of the post office, leading to overland flows into the town centre."
The flooding left some parts of the town centre under 1ft (30cm) of water.
The council suggests that "individual property owners within the town centre should consider installing property protection measures to their properties at risk of flooding; such as door guards and air brick covers."