Grimsby Ice Factory renovation plans unveiled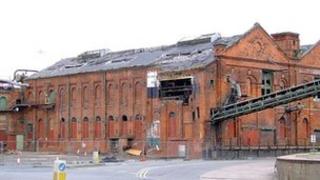 Renovation plans have been unveiled for a derelict building in Grimsby, which is listed as one of the UK's most endangered buildings.
The Ice Factory is on the Victorian Society's top 10 list of structures most at risk of being lost.
A trust was tasked with finding a sustainable use for the Grade II listed building in 2010.
The public are being asked to comment on the plans to turn it into an arts and business centre.
It was built in 1900 to provide crushed ice for the town's trawlers, to keep fish fresh in the ship's hold.
The last ice was produced in 1990 and the huge structure stands abandoned in the town's fish docks, with some of the original ice-making machinery still in place.
The Great Grimsby Ice Factory Trust said it intended to keep some of the original ice-making equipment as part of a history exhibition.
Other proposed uses for the building include an art gallery, cinema and a cafe.
The trust claims the building would be financially self-supporting within a year.
The plans will be put on public display next week.