Controversial Hull water pumping station approved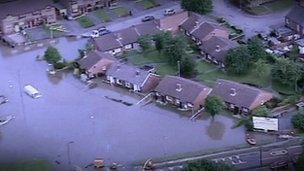 A revised proposal for a £17m water pumping station in north Hull has been approved after initial plans were rejected for being too big.
Last year, councillors voted against the project after residents complained the proposed structure was too high and too close to their homes.
Yorkshire Water said the facility was needed to avoid a repeat of flooding in the city in 2007 which affected more than 10,000 properties.
Some residents still oppose the plant.
Pauline Cochran, who lives in the street where the station would be built, said she was worried the development would affect the value of her property.
"We've had to think of nothing else," she said.
"It's always there at the back of your mind that the view will be gone, darkness will descend, because it is right there at the end of the road."
Ms Cochran said some residents were considering taking further action to stop the construction.
Yorkshire Water said it had reduced the height of the plant on Selset Way in Kingswood by 1m (3ft) and made other changes to the design after talking to the local community.
Matt Thompson, of Yorkshire Water, said: "There will actually be a sloped, living roof which, hopefully, will act as a hub for bio-diversity in the area.
"We certainly have taken on board their feedback and will continue to listen and liaise with them going forward."
Related Internet Links
The BBC is not responsible for the content of external sites.