David Hockney assistant death: Could be 'weeks' before cause known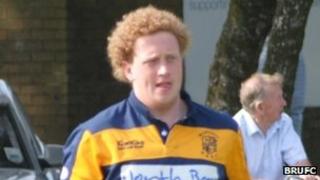 It could be several weeks before the cause of death of David Hockney's assistant is known, police have said.
Dominic Elliott, 23, died on Sunday after he was taken to hospital from the world-renowned artist's house in Bridlington, East Yorkshire.
Humberside Police said they were treating his death as unexplained, but a post-mortem examination taking place later "may provide some clues".
Mr Elliott is the subject of more than one portrait by Hockney.
Hockney 'devastated'
The artist's publicist said he was "too upset to comment at the moment".
Erica Bolton said Mr Elliott had worked for Hockney for more than two years, and told Reuters he "was a hugely valued member of the team".
She added that the 75-year-old was "really devastated by the news".
A spokesperson for Humberside Police said: "Results from post-mortem examinations are not always conclusive and it may then take several more weeks for complete results to be available to provide a pathologist with the information required to identify any cause.
"Officers will continue to make routine inquiries into the events leading up to the arrival of the deceased at hospital and his subsequent death."
'Minute's silence'
Tributes have been paid to the rugby and hockey player.
Adam Saltonstall, from Driffield Hockey Club, said the club was "horrified" to hear the news.
He said: "The phrase that's been used by a lot of people is 'It's left a Dom-sized hole in our hearts, in our lives'.
"It's going to take a lot to come back from this. We have taken a club decision that we are going to continue games this weekend.
"We are going to hold a minute's silence before the game as a mark of respect to him but we're fairly sure that Dom would absolutely want us to go ahead and play the last game of the season and finish it off in style just for him and that's exactly what we plan to do."