Humber Bridge traffic numbers rise by 9%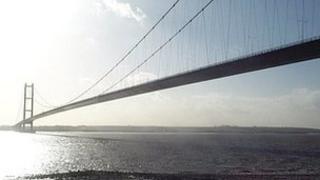 The number of vehicles crossing the Humber Bridge has risen by more than 9% since the toll was halved a year ago.
Figures released by the Humber Bridge Board showed crossings rose by 9.26% from 1 April 2012 to 24 March 2013, compared to the same period last year.
The fees were cut after the government wrote off £150m of the bridge's £330m debt in the autumn of 2011.
The toll was halved to £1.50 for cars, after an agreement between the Humber councils to take on the remaining debt.
The rise equates to an extra 553,703 vehicles crossing the bridge.
Crossings by cars saw the biggest rise with an increase of 10%.
But the number of vans had dropped by 16% with 36,145 fewer crossing the bridge.
Leader of North Lincolnshire Council Liz Redfern said more vehicles using the bridge was good news for the local economy.
"It's not a cost that's stopping people looking further afield for jobs and job opportunities," said Ms Redfern.
Christine Edwards, tourism manager at North Lincolnshire Council, said reducing the bridge tolls had "really made the difference".
"We've had a fantastic year for visitor numbers right across North Lincolnshire," said Ms Edwards.
"We're finding more and more people are coming across the bridge."