Vincent Regan leads project to convert Beverley chapel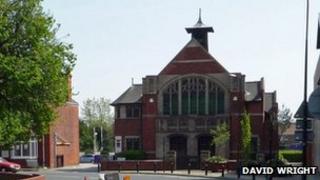 A 100-year-old disused chapel in East Yorkshire is set to be converted into a theatre and cafe.
Baptist Church in Beverley, which is a Grade II listed building, has been empty for more than a year.
Plans by East Riding Theatre group to transform the building were approved by the council on Monday.
The project has been led by actor Vincent Regan, who appeared in the 2004 film Troy, starring Brad Pitt. He said he was "delighted" with the outcome.
Regan, who lives in Beverley and started the local theatre group, said: "We aim to provide a venue where local residents and visitors to the region will have access to world class, professional theatre and music.
"We really appreciated the enthusiasm shown by local residents who wrote to the council to support the application. Their constant support and following on Twitter and Facebook has been both rewarding and encouraging.
'New life'
"We have made great progress in the last nine months and will now focus on the next stage of the project, the renovation of the building and the creation of an exciting new theatre."
Baptist Church was used by East Riding of Yorkshire Council as a storage and office space from 1964, after services had ended.
Council leader Stephen Parnaby welcomed the proposals by the East Riding Theatre group.
He had previously said the council was "keen to support the opportunity to deliver theatre to the high street and these proposals could breathe new life into the community".
A final decision on the application will be made by the Secretary of State because the chapel is a listed building owned by the council.