Bridlington Dalek aims to attract resort visitors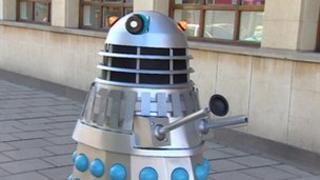 A Dalek will be used by an East Yorkshire holiday resort to attract visitors to the town.
Bridlington Town Council voted in favour of using the life-sized replica "for appropriate events" over the summer season.
The proposal to use the Dr Who monster was put forward by UKIP councillor Malcolm Milns, who saw the Dalek during a visit to a local pet shop.
Mr Milns said he had been looking for a tourist attraction for the town.
He said: "I've had nearly seven years now as a councillor off and on in Bridlington, with two different councils. I've never known such interest in anything.
"I think it will be the high spot of my career."
The life-sized replica is owned and operated by 16-year-old Billy Wilkie.
Bridlington council said the use of the Dalek would have "no cost implications for the council".