Humberside police horse campaign launched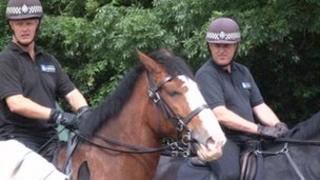 Campaigners in East Yorkshire have gathered almost 2,000 signatures on a petition opposing the disbandment of Humberside Police's mounted section.
Last month, the force said it would be standing down its six-strong unit in March 2014 to save £500,000.
Police say this will enable the force to maintain frontline services, as it faces making savings of £30m by 2016.
Campaigners are planning a mounted protest parade around the streets of Beverley next month.
The petition was launched by Mike and Marie Dickenson, who run a pet shop behind the police stables in Walkington, East Yorkshire.
Mr Dickenson said his business did not supply anything to the force, but the petition was started after customers in his shop complained about the closure plan.
'Vital link'
"I think its wrong," he said.
"David Cameron said there would be no cuts to frontline policing. Police horses are clearly frontline.
"It's a vital link between police and public.
"You get a mounted officer, the public will come and talk to the horse and then he can interact with the public."
Speaking at the time of the closure announcement, Humberside Police's then Chief Constable Tim Hollis said the decision had been made with "sadness".
A spokesman for Humberside Police and Crime Commissioner Matthew Grove said the PCC was unable to get involved in operational matters but was planning to hold a meeting with Mr Dickenson next month.