Fraud gang must repay more than £415,000 after scams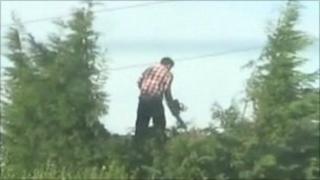 The leader of a gang that conned more than £1.3m out of elderly people tried to avoid repaying the cash by claiming he had spent it on lavish celebrations.
David Price led a gang who preyed on householders across the country by overcharging for unnecessary maintenance or gardening.
He, and members of his family from Brigg, North Lincolnshire, were jailed in 2011 for fraud and money laundering.
A Proceeds of Crime Act hearing heard the gang must repay more than £415,000.
The hearing affects five members of the Price family and James Cunningham, from Castleford, West Yorkshire.
£23,000 for gardening
David Price, 44, who is currently serving more than seven-and-a-half years, told the hearing he spent the money on weddings, horses and expensive jewellery and clothing, as well as gambling.
He now faces a longer jail term if he does not repay £370,000 of the £456,000 he was found to have benefited from through crime.
His wife Angelina Price, also known as Nicholson, must pay back £22,000.
The investigation, named Operation Violet, found one 85-year-old was pressured in to parting with £52,000.
Another elderly victim who was the sole carer of a husband with dementia was defrauded of more than £23,000 for gardening work.
North Yorkshire Trading Standards officers began an 18-month investigation after the gang moved in 2009 to an illegal site off the A1 at Dishforth, North Yorkshire.
Victims were found throughout Yorkshire and across other counties including Essex, Derbyshire, Staffordshire and Nottinghamshire.
The operation involved magnetic signs for their vans and staff in logoed T-shirts, running seven or eight differently-named firms.
The individual amounts ordered to be repaid were:
David Price (Sr) - £369,990
Angelina Price aka Nicholson - £22,149
Abraham Price (eldest son) - £6,412
David 'Davy' Price (Jr) (youngest son) - £3,852
Shane Price (Sr) (brother of David Price Sr) - £3,607
James Cunningham - £9,576
Trading Standards traced at least 81 victims, and they or their estates will be a priority to be repaid from the recovered cash, a spokeswoman said.