Grimsby councillor admits housing demolition 'mistake'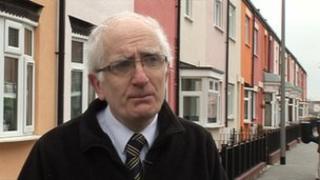 A multi-million pound project to demolish and rebuild homes on a Grimsby street was a mistake because it was too expensive, a councillor said.
Four years ago North East Lincolnshire councillor Steve Beasant voted for 100 houses on Guildford Street to be pulled down and 51 new homes to be built.
But now, while construction work is under way, he says the homes should have been refurbished instead.
The council said demolition would lead to "higher quality" properties.
The exact cost of the development of Guildford Street, which is part of a wider £8m regeneration of the East Marsh area, is yet to be released by the Labour-controlled council.
North East Lincolnshire Council said the cost of buying the 100 properties was £4.57m, with an additional £294,000 spent on their demolition.
Mr Beasant, a Lib Dem councillor for the East Marsh ward, said there was a "great deal of cost involved in pulling down" the terraced houses in addition to the rebuild costs, which would have been saved if the properties were improved instead.
'Displaced families'
He said the saved money "could've been used more widely".
"We could have just refurbished the houses in many respects and not upset local communities because potentially we've displaced families, who've lived here for many years," he said.
"So potentially they could have stayed here... I [now] think that would've been a better idea and a better use of government and council resources."
Mr Beasant said he "accepted" he had made a mistake and would look at refurbishing properties in the future instead of demolishing them, but would consider demolition if the street was in "terrible decline".
"I think bricks and mortar should stay and my opinion now is that we should be thinking about refurbishing rather than pulling down houses."
John Harrison, a Guildford Street resident of 35 years, said the street had gone downhill and that it was "at the stage of being flattened".
"The work that's done up to now has been a real improvement," he said.
Jason Longhurst, from North East Lincolnshire Council, said demolishing the smaller houses had created space for 51 "new energy-efficient, family-size homes, an outdoor play area and a community orchard".