Work to start on Beverley Southern Relief Road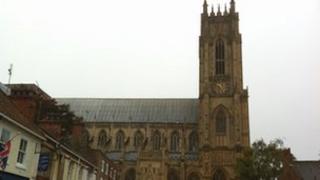 Work is to start on a long-awaited new bypass around Beverley as part of a £22m transport scheme.
Work on the southern relief road is scheduled to start this summer and should be complete by 2015, according to East Riding of Yorkshire Council.
The 1.8 mile (2.9 km) route will connect the A164 to the A1174 Hull Road near Figham.
The road is part of a plan to reduce traffic in the market town especially around the historic Beverley Minster.
First planned in 2006, the scheme is one of the largest capital investments it has ever undertaken, the council said.
It estimates the number of vehicles using Keldgate, near the minster, will reduce from 12,000 to 4,000 daily.
The work will also involve changes to the Grovehill junction, Swinemoor roundabout and the Flemingate level crossing in Beverley, said the council.