Humberside Police catch yoghurt-eating lorry driver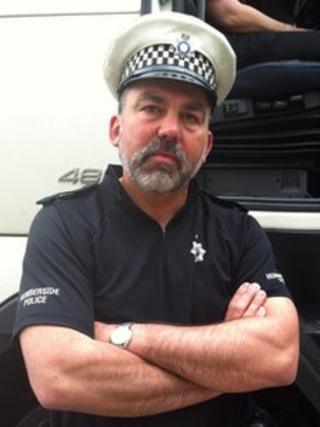 A driver of a lorry containing hazardous chemicals has been caught eating yoghurt with a spoon during a police clampdown on motoring offences.
Officers using an unmarked lorry caught the man while he was driving on the A15 near the Humber Bridge on Wednesday.
Another lorry driver veered on to the hard shoulder of the M18 near Doncaster while using wet wipes on his hands.
The drivers were detected as part of a three-day operation undertaken by Humberside Police.
PC Barry Gardner said either incident could have led to a serious or fatal accident.
He said the drivers could face a fixed penalty notice and a fine of up to £60 or be asked to attend a driver awareness course.
"We've seen lots of different issues. Motorists using their mobile phones, drivers wearing no seatbelts, eating with two hands," he said.
"Probably the worst was yesterday [Wednesday] on the M18 where a driver was opening a packet of wet wipes, diligently cleaning his hands, but while he was doing that he was right across on to the hard shoulder.
"Had there been a vehicle broken down, which there was five miles further down, he would have hit that and no doubt would've killed the person stood outside.
"So it is important that we're looking at stopping this type of behaviour and improve road safety."
He said the force had dealt with more than 50 offences during the operation.