Heathrow terminal sculpture unveiled in Hull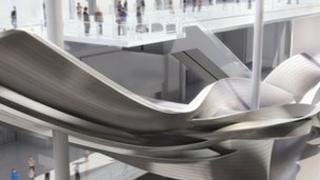 A new sculpture destined for Heathrow Airport's Terminal Two has been unveiled by its manufacturer in Hull.
Called Slipstream, the 259ft (79m) long aluminium artwork is claimed to be the longest permanent sculpture in Europe.
It was designed by British artist Richard Wilson and will be suspended from the ceiling of the newly built Terminal Two when it opens in 2014.
The sculpture has been built in 21 sections by Hull company Commercial Systems International (CSI).
Richard Wilson was selected to create the work after winning an international competition.
He described the 77 tonne work as "a very elegant sculpture, with a streamlined, undulating surface that reflects the light in all sorts of ways".
The artist said the work represents a stunt aircraft in flight.
CSI, based in north Hull, diversified into building artworks after the downturn in the construction industry affected their original business of manufacturing glazing and cladding for buildings.