Three charged with waste crime offences at Goole docks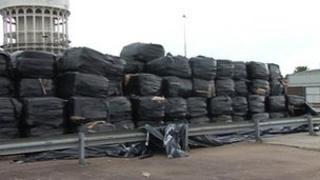 Three directors of a waste company are to appear in court over bales of rubbish left at Goole docks.
Jamie Todd, Michael Todd and Thomas Todd of Leeds Paper Recycling Ltd were charged with 18 counts of waste crime offences by the Environment Agency.
The charges relate to storing waste on the docks and also at Knostrop Depot in Leeds, without a permit and in a manner likely to cause harm to human health.
Leeds Paper Recycling went into liquidation last week.
An investigation was launched by the Environment Agency last year when people complained of bad smells and fly infestations in their homes and businesses after 4,000 bales of waste was left at the docks.
There were similar reports of smells and fly infestations at two industrial units at Knostrop Depot on Old Mill Lane, where 17,000 bales of waste were found, the agency said.
The agency said its investigations were ongoing.
All three men are due to appear at Leeds Magistrates' Court on 4 June.