Brough factory death: BAE fined £350k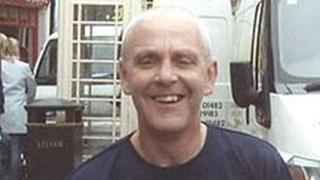 Defence giant BAE Systems has been ordered to pay out almost £350,000 after the death of a worker who was crushed by a 145-tonne metal press.
Gary Whiting, 51, of east Hull, died at BAE's Saltgrounds Road plant, Brough in November 2008, Hull Crown Court heard.
BAE was fined £250,000 and ordered to pay costs of £97,168 after admitting breaking health and safety laws.
Mr Whiting's death was an "entirely preventable tragedy", the Health and Safety Executive (HSE) said.
The father-of-two, from east Hull, was part of a team performing a routine service on a large metal press used to make components for Hawk jets.
The court heard how he had entered the machine to remove a piece of equipment but, simultaneously, a colleague at the other end of the press started a full test cycle.
'Flaws in safety'
Mr Whiting was trapped by the 45 square metre frame as it descended and died the same day in hospital.
The HSE said its investigation exposed a series of flaws in safety practices during maintenance of the metal press, some of which had existed for many years.
Mr Whiting's widow, Jackie, his two children and brother, said: "The complete absence of any safe system of work for the job Gary was performing beggars belief."
HSE Inspector Mark Welsh said: "The dangers of maintenance work on these types of machines are well known yet BAE Systems Ltd failed to identify those risks and its serious failings led to this tragedy."
A spokesman for BAE said it apologised "sincerely" for Mr Whiting's death, adding that improvements had been made at the site to "ensure such an accident never happens again".