Gregg Stone's widow starts 274-mile army charity trek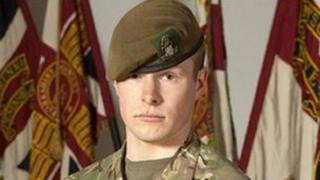 The widow of an East Yorkshire soldier killed in Afghanistan has started a 274-mile charity trek with their five-month-old daughter in his memory.
Pte Gregg Stone, 20, from Atwick, near Hornsea, was shot last year while on duty.
His wife Samantha, 20, was expecting their first child at the time.
She is walking from Catterick Garrison, North Yorkshire, to Warminster, Wiltshire, to raise £5,000 for the Yorkshire Regiment Benevolent Fund.
Pte Stone was shot during an operation to rescue an Afghan policeman kidnapped by insurgents in Helmand.
Mrs Stone said: "This is a chance to remember Gregg and the 440 others like him who have given their lives in service in Afghanistan, and the thousands who face life changing injuries."
She said she hoped to finish her charity trek in 11 days - on the first anniversary of his death.
"Accompanying me on this journey will be family, friends, Gregg's comrades and our daughter Grace, the daughter Gregg never had the chance to meet," she said.
"I'm walking the 274 miles from where Gregg began his training with the British Army in Catterick Garrison, to the home of his regiment in the Wiltshire town of Warminster, a year on from his death.
"Warminster was not just the home of his regiment, it became a home to us where we had enjoyed our life together."