Hull reveals plans behind UK City of Culture bid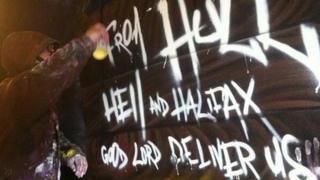 The people behind Hull's bid to become the UK City of Culture 2017 said winning would help bring the city "out of the shadows".
The city's £11m plans include 1,500 events throughout the year, a literacy programme and 25 different festivals.
Details of the bid, which was submitted to the government last month, have been revealed for the first time.
Hull is competing against 10 other places, including Leicester, Portsmouth, Chester and Aberdeen.
The winner will be the second city to hold the title after Derry-Londonderry.
The programme of events would include a festival called Looking Up, highlighting a different building in Hull every week in 2017, and an opportunity for residents to display the city's art collection in their front windows.
The bid document said Hull was "finding its place in the UK, a city coming out of the shadows and re-establishing its reputation as a gateway that welcomes the world".
'Moment to shine'
It said the city was undergoing a 20-year £190m "cultural capital programme", which included the creation of the Hull History Centre and a new venue for the Hull Truck Theatre.
Playwright John Godber, who is supporting the bid, said: "I have seen at first hand the social value of theatre to the people of Hull and as chair of the tourism partnership it is clear that culture can be a major driver of tourism.
"This is the moment for Hull to shine and for everyone in Hull to take pride in their city."
Virginia Bottomley, who was appointed to the role of Sheriff of Hull on Thursday, said: "Hull's contribution to the UK should be more widely recognised.
"Hull has touched the lives of some of the UK's most successful writers, artists and musicians."
A shortlist will be announced by the Department for Culture Media and Sport in June.