Cleethorpes Pier back on market after sale collapses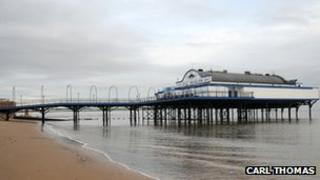 A Victorian pier sold at auction two months ago is back on the market after its sale fell through.
The 335ft (100m) Cleethorpes Pier in North East Lincolnshire, which closed last year, is one of the UK's shortest.
Auctioneers Swindells said the sale in March collapsed after the buyer failed to meet the contract's conditions.
Estate agent Lovelle Bacons confirmed it had been instructed by the owner of the pier to rent it out, with the possibility of selling it later on.
Gary Thompson, partner at Lovelle Bacons, said: "Given the complexities of leasing and letting, I doubt that it's going to be open very soon.
"But we do have a wealth of interest, that was prior to the sale that fell through, so we do have high hopes that we will find an occupier fairly soon."
Invasion fear
Swindells said: "The intended purchaser has failed to complete the contract and has failed to comply with the conditions of the contract."
North East Lincolnshire Council leader Chris Shaw said he was looking for the pier to be used during the summer, instead of remaining empty.
Cleethorpes Pier was built at a cost of £8,000 and opened in 1873. It was mainly financed by a railway company in an attempt to attract Victorian tourists to the resort.
When it first opened, the walkway was 1,200ft (365m) long, but in World War II a section of the pier was removed amid fears of German invasion.
After the war the isolated part of the pier was demolished, reducing it to its present length.
In 2011 the pavilion underwent a £250,000 refurbishment.
The pier has been empty since it closed last year.