Beverley Minster churchyard opens to the public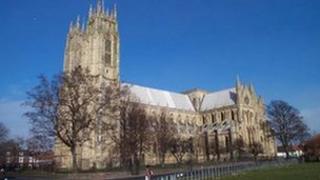 Beverley Minster's churchyard has been opened to the public for the first time since the early 19th century.
A wall was built around the Minster more than 150 years ago to keep the churchyard private. It was replaced by spiked fencing in 1908.
Two years ago the vicar decided to open the grounds but concerns were raised about the safety of the gravestones.
Work has now been completed to realign and level a dozen collapsed gravestones and control overgrown vegetation.
Verger Neil Pickford said: "There was a lot of overgrown vegetation, which was causing the gravestones to lean and some were liable to collapse.
"About a dozen had already collapsed. Now they have been levelled and it means the grounds can be open six days a week."
Rev Jeremy Fletcher, the vicar of Beverley Minster, said: "I'm delighted that through a partnership with the East Riding of Yorkshire Council, we've been able to open the gates and people can come in."