Prayers at Beverley Minster mark coronation anniversary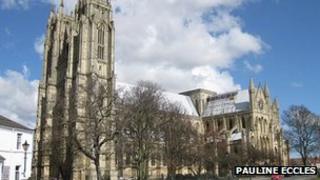 Prayers have been be said for the Queen at a special act of worship held in East Yorkshire to mark the 60th anniversary of her coronation.
Among those who attended the service at Beverley Minster were the High Sheriff and Lord Lieutenant of the East Riding.
Leading the service, the Rev Jeremy Fletcher said it was a chance to look at "the promises the Queen made and what they might mean for us today".
Congregation members wore red, white and blue clothes to mark the occasion.
Susan Cunliffe-Lister, Lord Lieutenant of the East Riding, said the service was "a great honour to celebrate and give thanks to the Queen for her many achievements since she came to the throne."