Gary Hyde told to pay £780,000 over Nigeria arms shipment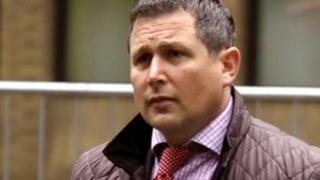 An arms dealer jailed for supplying guns to Nigeria without a licence has been ordered to pay £782,000 or have four years added to his sentence.
Gary Hyde, 43, helped ship 40,000 AK-47 assault rifles, 30,000 rifles, 10,000 pistols and 32 million rounds of ammunition from China in 2007.
He was convicted of breaching UK trade controls in October and sentenced to seven years in December.
Hyde, of Newton on Derwent, East Yorkshire, has six months to pay up.
On Wednesday, a judge at Southwark Crown Court ruled he had profited from the crime by £782,142.
Lichtenstein bank account
The former special constable legitimately ran the York Guns business for several years, and helped broker arms deals including some for UK police forces and the government.
But during his trial the court heard he got involved in a deal between China and Nigeria in 2006.
The arms deal was lawful, but Hyde did not apply for the licence he needed to take part in it,
Hyde claimed he had done the business away from the UK so the licence was not necessary, but phone records proved he had been in the UK during key parts of the $10m (£6.2m) contract.
He was convicted after a retrial of two counts of becoming knowingly concerned in the movement of controlled goods between March 2006 and December 2007.
Hyde was also found guilty of one count of concealing criminal property between March 2006 and December 2008 after he was alleged to have hidden the profits in a bank in Liechtenstein.