Hedon residents complain as 'stench returns'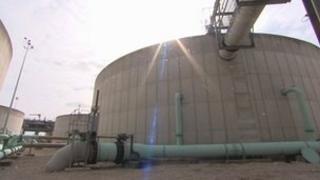 People in Hedon have complained that odours are still coming from a water treatment plant, despite £3.5m being spent to try and combat them.
A local councillor has described the smell from the Saltend water treatment site near Hull as "an absolute stench".
In 2011, Yorkshire Water installed a £3.5m odour control unit to try to stop the smell at the plant, which has been likened to "rotten eggs".
The firm said it had only heard new complaints about the smell this week.
The anti-odour unit was installed after an online petition by local residents and the intervention of the local MP and district councillors.
'No changes'
Conservative councillor John Dennis said the smell seemed to have returned in recent weeks.
He said: "We accept the fact that the treatment works will have its odour, but there comes a point when odour is more than tolerable.
"When I came past here a couple of weeks ago on a Friday it was an absolute stench."
Yorkshire Water said it constantly monitored the plant's emissions and "there have been no changes in operational processes which could have led to an increase in odours from the site".
In a statement the firm said: "Up until this week, we had not received a single odour complaint this year - this from a community that has always been, quite rightly, quick to alert us to any odour issues in the past."
The company said that after it had received the complaints it had increased the use of deodorising sprays lining the perimeter fence.