Market Weighton runs out of burial spaces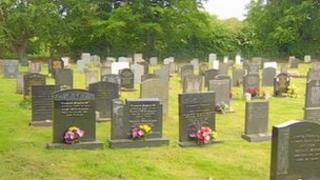 An East Yorkshire town's cemetery is one month away from being full, according to a local councillor.
Market Weighton Cemetery has fewer than 10 plots left for burials.
Deputy mayor Peter Hemmerman said anyone who did not reserve a place would be unable to be buried in the town.
He said the town council had been trying to extend the cemetery by buying land, but much of it was too expensive as it had been allocated for housing.
"We've been pursuing this for the best part of four years' negotiations," Mr Hemmerman said.
"We are now hopeful that within a year we will be able to get a piece of land that we can bury people in.
'Unattended graves'
"There are no options to be buried in Market Weighton, until a new place is sorted."
He added: "We have already filled in pathways and walkways between to cope with it but we are now in a situation where there is no more room for burials."
Local resident Michael Haigh has bought one of the last burial spaces for his own grave.
The 63-year-old is arranging his own funeral after being diagnosed with terminal cancer.
He said: "There is a real possibility of people having to be moved out of Market Weighton just because they've died, to 15 to 20 miles away.
"You could end up with people having difficulty visiting the graves, you could have unattended graves."