Hull fishermens' memorials in Holy Trinity rededicated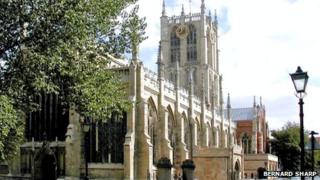 Memorials to the fishermen from Hull who have lost their lives have been taking place.
A plaque rededication was carried out by the Right Reverend Richard Frith, Bishop of Hull, at Holy Trinity Church.
Bishop Frith said it was an opportunity to remember the "colossal number" of trawlermen lost at sea.
The service was carried out during the national conference of the Fisherman's Mission that began in the city on Friday.
Bishop Frith said it was estimated about 6,000 fishermen from Hull have lost their lives over the past 100 years.
Tracey Stephens, Superintendent of the Hull Fishermen's Mission said: "Holy Trinity will remain the permanent home for our loved ones, because we have no grave to go and remember them."
The plaques include one marking the triple trawler tragedy of 1968, when the Hull trawlers - St. Romanus, Kingston Peridot and Ross Cleveland - were all sunk in quick succession with the loss of 58 lives. Only one man survived.
The Gaul, sunk off the Norwegian coast in 1974 with the loss of 36 crewmen, is also commemorated.
The city's 24th annual Lost Trawlermen's Day service was also held near the river Humber in January.
The service is held in January or February, the months when most trawlers were lost.