'Tombstoning' injury leads to Humber coastguard warning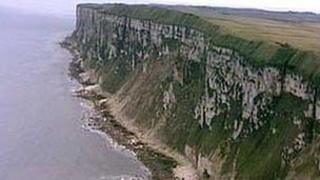 Coastguards have warned of the dangers of "tombstoning" after a teenager was seriously injured jumping off an 80ft (24m) cliff.
Humber Coastguard said the 18-year-old, who has not been named, jumped into the sea from cliffs at Flamborough Head, East Yorkshire on Tuesday.
He suffered serious spinal injuries and remains in hospital.
The coastguard said tombstoning, which involves jumping from a height into the sea, remained "incredibly dangerous".
Mike Puplett, Humber Coastguard watch manager, said the teenager was lucky to be alive.
"Eighty feet is a tremendous height to jump from into water of an unknown depth. We understand the boy remains in hospital with fairly severe spinal injuries," he said.
He added people jumping from great heights had no way of knowing the depth of the water, the risk of rip tides or the water's temperature.
"It is incredibly dangerous and it carries on regardless of the messages and warnings we have put out," he said.