Ex-East Yorkshire RAF base memorial statue unveiled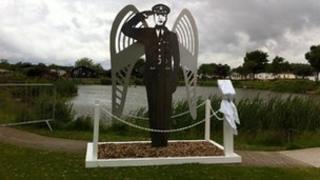 Hundreds of former RAF personnel have attended the unveiling of a memorial sculpture at a former radar base in East Yorkshire.
RAF Patrington, near Hull, was in operation from 1942 till 1975 as part of the UK's air defence system.
The site is now a caravan park and the owners have paid for the sculpture which was designed by three students from a local secondary school.
The statue was blessed by the Bishop of Hull, the Rt Revd Richard Frith.
The radar base was linked to a nearby underground control bunker at RAF Holmpton, which is now a tourist attraction.
Guy Sparkes, who owns the caravan park and organised the event, said he was amazed at the number of veterans who requested invitations, with some travelling from Canada and Cyprus.
He said: "We wanted to honour the people that served here all those years ago and helped to keep the East Coast and Britain safe.
"You could say it was an RAF base and still is at its heart.
"The sculpture will ensure that the role that those stationed at RAF Patrington played in the defence of our country is never forgotten."
The event included a parade by veterans, music and poetry readings by local schoolchildren featuring the work of former Poet Laureate Ted Hughes, who did his National Service at the base in the 1950s.