Humber Bridge toll work creates lengthy traffic delays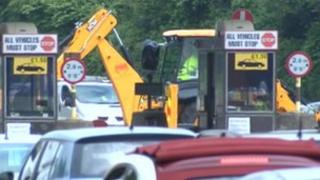 Work on the Humber Bridge's toll system has led to long traffic delays.
The Humber Bridge Board has started replacing its toll system with an electronic version to "make crossing more convenient" for commuters.
But commuters using the bridge earlier have been facing delays of up to 80 minutes during the morning rush hour.
The Bridge Board said it had to limit the number of toll booths from four to two in both directions in order for the work to be carried out.
Commuter Lucy Denham, 32, who was travelling from her home in Winteringham, North Lincolnshire, to work in Hull said it had taken her 80 minutes to cross the bridge.
She said: "I started queuing from the roundabout at Barton on the A1077 and this was at 08:10 this morning.
"It took me an hour and 20 minutes just to get across the bridge."
William Bradley, chief executive of the Grean Pea Company in East Yorkshire, said the delays were preventing "considerable tonnes" of harvested peas from being frozen in Hull.
"They have to be from picked to frozen in two-and-a-half hours.
"The lorries are not getting back in time [from Caenby, Lincolnshire] to get the peas frozen within the time and hence those peas are wasted."
Mr Bradley said it would mean a loss of several thousand pounds.
Bridgemaster Peter Hill said: "We knew there would be some disruption but certainly the degree of disruption is unacceptable. It's certainly delaying our customers far more than we were hoping for."
The Bridge Board asked motorists to "bear with us until the new system is fully implemented in autumn/winter 2014."