Carer Natalie Gillan jailed for leaving patient in bath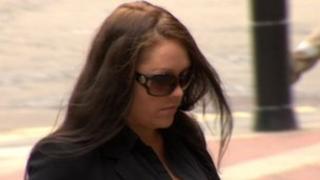 A care worker who left an 82-year-old dementia patient alone in a bath for 15 minutes has been jailed for six months.
Doreen Graham suffered brain damage after she was left strapped in a bath at the Windsor Court Care Home in Goole, East Yorkshire, last November.
Natalie Gillan, 30, was gossiping with a colleague for 15 minutes.
She pleaded guilty to the wilful neglect of a person who lacks mental capacity at Hull Crown Court.
The court heard Gillan, of Westfield Avenue, Goole, left Mrs Graham strapped in a bath while she went to fetch a towel and some clean clothes. But she became distracted and was gone for at least 15 minutes.
She only remembered about Mrs Graham when she heard an alarm go off, the court was told.
She was heard shouting: "God, I hope that is not Doreen" before returning to the bathroom to find Mrs Graham with a fellow carer.
'Confidence in carers'
Mrs Graham was in hospital for eight weeks after the incident and was diagnosed as suffering from a lack of oxygen as a result of almost being drowned.
Judge Mark Bury told the court Gillan's neglect "was deliberate and entirely avoidable".
Gillan's defence barrister, Geoff Ellis, said: "She told me 'this haunts me every single day, I am ashamed of what I have done'."
Sentencing her, the judge said: "A sentence of imprisonment is justified. The public must have confidence in carers who are responsible for looking after the most vulnerable members of society."
The verdict has been welcomed by East Yorkshire's Safeguarding Adults Board, which represents both the police and social services.
A spokesperson for HC-One, the company that owns the Windsor Court Care Home, said: "Nothing is more important to us than the health, safety and wellbeing of those we care for and support and our thoughts of course remain, as they have done throughout, with the resident and her family.