Couple jailed for Hull sham marriage plot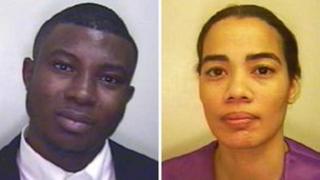 Two people have been jailed for their part in a sham wedding ceremony at Hull's Guildhall.
Nigerian Jayeola Abiola, 27, and his Portuguese "bride" Vania Fernandes, 29, were arrested just before the wedding was due to start last November.
The Home Office said Abiola's student visa was about to expire and the marriage was an attempt to stay in the UK.
Abiola received 12 months and Fernandes eight at Hull Crown Court.
The pair pleaded guilty to conspiracy to breach immigration law in April this year.
The investigation found that Abiola, a student who lived in Grafton Street, Hull, had paid around £3,000 for the ceremony.
The Home Office said that immigration staff were alerted by a registrar who became suspicious that Abiola and Fernandes, who lived on Corporation Road, Manchester, appeared to know very little about each other during a pre-marriage interview.
Mark Bates from the Home Office Borders and Immigration unit said it was important to stop people staying illegally in the UK.
Mr Bates said: "They're then in a position, not only to be able claim off the state, be it benefits, be it health care and everything that goes with being a UK citizen.
"Equally, they then can start bringing in other family members. And that one person can very quickly become two, or 10 or 20."
Two other people pleaded guilty earlier this year to conspiracy to breach immigration law and money laundering.
Abiola Kumoye, 34, of Shillingford Road, Manchester, was involved in the organisation of the wedding.
Kumoye and "Best man" Ayodeji Abbis, 26, of Grange Road, Leeds will be sentenced later.