Hull Trinity House Academy moves after 170 years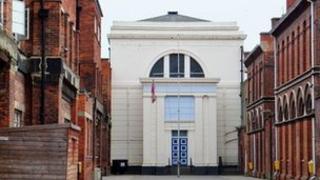 A marine school in Hull is to leave its Grade II listed home after 170 years.
Hull Trinity House Academy has been teaching boys aged between 11 and 16 at its premises on Prince's Dock Street since 1843.
In September, the school will move to a refurbished former university building on George Street.
The school said the current buildings were "dilapidated and inadequate to provide a modern education". A parade by pupils marked the move.
Double capacity
The building on George Street has undergone a refurbishment to accommodate the academy's growing number of pupils, the school said.
Moving to the new premises would mean the school's pupil capacity will double from 300 to 600.
The school opened in 1787 teaching young boys merchant subjects.
It was awarded specialist school status in 2008 before being converted into an academy last year.