Fire in grounds of Normanby Hall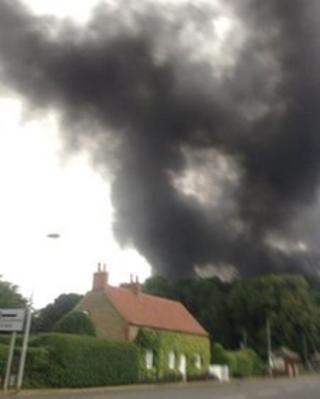 Up to 20 firefighters tackled a blaze in the grounds of a 19th Century country house in North Lincolnshire on Sunday.
Normanby Hall, near Scunthorpe, is run by North Lincolnshire Council but was originally the family home of the prime minister's wife Samantha Cameron.
The fire involved a diesel tank and fencing and began just after 19:00 BST.
Humberside Fire and Rescue Service said no-one was hurt in the blaze which also damaged a greenhouse and a car.
North Lincolnshire Council said the fire service was alerted by a member of staff at the property.
Susan Hopkinson, museum and heritage manager at North Lincolnshire Council said: "The fire was contained in a small area at the back of the walled garden resulting in damage to the fencing and diesel tank.
"Normanby Hall and grounds remain open as normal, though the display rooms along the back of the walled garden are closed temporarily until all the debris from the fire has been cleared away."