Prince of Wales greeted by thousands in East Yorkshire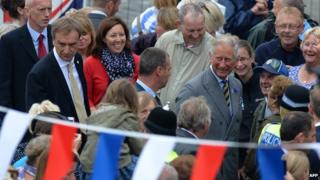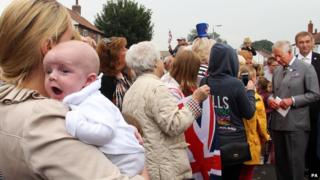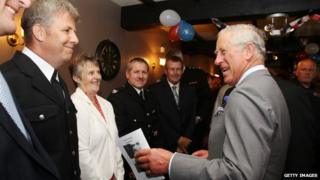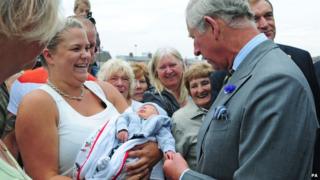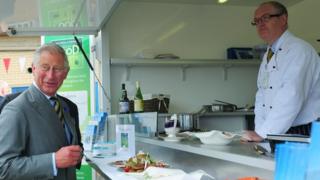 New grandparents the Prince of Wales and Duchess of Cornwall have been greeted by cheering crowds of well-wishers on a visit to East Yorkshire.
The royal couple were congratulated on the birth of their grandson in Burton Fleming, Bugthorpe and Bridlington.
The pair met fishermen, charity workers and those affected by flooding.
They attended a service in Bridlington Priory, founded 900 years ago, before heading to London to visit the Duke and Duchess of Cambridge and their baby.
Charles said he was "thrilled and very excited" about the birth of his first grandchild.
The duchess said Charles would make a "brilliant" grandfather.
"I think it's wonderful news. I think mother, son and father are all well," she told the BBC.
"And I think it's a wonderfully uplifting moment for the country.
"It's very exciting and it's wonderful for the grandfather - he's brilliant with children."
'Likes being grandad'
The village of Bugthorpe was decked out with union flags and bunting for the visit.
One member of the crowd, local resident Robert Barrett, was one of the first to greet the prince, saying "Morning, grandad", which raised a chuckle from Charles.
"He obviously likes being a grandad," said Mr Barrett.
Many people asked whether the new baby had a name, but Charles gave little away.
Alec Dale told him: "We popped a bottle of bubbly last night at our house. I hope you did too."
The prince replied: "Yes, but just a little bit."
Eight-year-old Isla Lister said the royal couple told her they could not wait to see the new baby.
She said: "She was really nice and she said she was really excited.
"I spoke to Prince Charles too and he said he couldn't wait to see him."
'Fish and chips'
Her mother, Debbie Lister, asked the duchess about the baby's name.
Mrs Lister said: "She said they had no clue whatsoever.
"She wasn't giving anything away."
In Bridlington, Camilla enjoyed a lunch of fish and chips. She said the haddock and chips, which she ate out of a box, was the "best thing I have eaten in an awfully long time".
"I think these are celebration fish and chips. Celebrating the birth of the new baby," she said.
Outside, the duchess chatted to the small crowd cheering and waving union flags.
Later, the prince arrived in Burton Fleming where the villagers cheered and shouted their congratulations to him.
He met people who were affected by severe floods last Christmas and spoke to them in the Burton Arms pub.
One group serenaded him with the song: "Grandad, we love you, Grandad, we do."
Before the meeting in the pub, Charles met 11-week-old Hugo Tate.
Proud mother Heather Bradley, 29, an estate agent from Wansford, said: "Prince Charles said [Hugo] was lovely and it was lovely to meet him."
There were spontaneous rounds of applause and cries of "Congratulations, grandad" as the prince was shown around Bridlington Harbour, where he met members of marine conservation, fishing and other nautical organisations.
Afterwards, Charles and Camilla braved the rain to tour a festival of activities on Withernsea's seafront.
Everywhere they went in the town they were greeted with shouts of "congratulations" and some people gave them teddies and other presents.
But Charles resisted all attempts by people in the crowd to find out more details about his new grandson, including any potential names.