IPCC inquiry over claims police spied on Alder family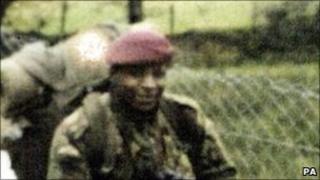 Claims police carried out "improper surveillance" of the sister of a former paratrooper who died in custody are being looked at by the police watchdog.
It is understood the inquiry concerns claims Humberside Police placed Christopher Alder's sister Janet under surveillance during his inquest.
Mr Alder, 37, died in police custody in Hull in 1998.
The force said it had referred itself to the Independent Police Complaints Commission (IPCC).
The IPCC said it was investigating "potential improper surveillance" of Ms Alder and another person.
A spokesman said: "The IPCC has contacted Ms Alder and the other party to offer a meeting to discuss the investigation, which will be overseen by the IPCC's commissioner for Humberside, Cindy Butts."
Humberside Police said it referred itself after the government asked all police forces to check their records for evidence into the murder of Stephen Lawrence and the subsequent inquiry into his death.
Unlawfully killed
The force said: "Following an internal review, conducted in the light of interest in covert policing tactics, Humberside Police has chosen to refer to the IPCC an operation conducted a number of years ago.
"This means that Humberside Police will be unable to comment further until such time as the IPCC has concluded an investigation. "
Mr Alder choked to death at Hull's Queen's Gardens police station after being arrested in 1998.
The inquest jury found he had had been unlawfully killed and misconduct and manslaughter charges were later brought against five Humberside Police officers. They were acquitted of all criminal charges in 2002.
It later emerged that Mr Alder's body had been found in a Hull mortuary in 2011, indicating his family had unwittingly buried someone else.
Grace Kamara, 77, from Nigeria, had been mistakenly buried in his grave and her body was exhumed in February last year.