Hedon residents warned sewage plant odour may increase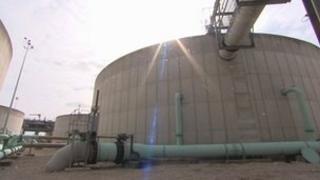 Residents upset by smells from a water treatment plant are being warned the smell could get worse as work takes place to try and stop the problem.
The facility in Saltend, to the east of Hull, has been blamed for a smell of "rotten eggs" in the town of Hedon.
In 2011, Yorkshire Water installed a £3.5m odour control unit to try and resolve the problem but last month people said the smell had returned.
The firm said work over the weekend meant the smell may increase.
'Masking sprays'
A Yorkshire Water spokesman said during recent investigations following complaints into the odour, issues were discovered relating to large treatment units at the north end of the site.
He said: "This has reduced our capacity to treat all incoming flows and is resulting in odours."
He added: "We are hoping to see an improvement by the early part of next week but we anticipate that the odour levels may increase for a short time over the weekend.
"We continue to operate masking sprays and are still working as hard as we can to reduce the likelihood of odours escaping beyond the boundary of our site."